Kristen Brown (better known as, Monster) is a natural-talent canvas artist with 27 years experience painting realism, abstract, and hyper-realism. NFTs are available as the COA for each painting available for sale, though not all painting are available for sale. In the case of the original painting being unavailable, limited edition NFTs are available on Voice..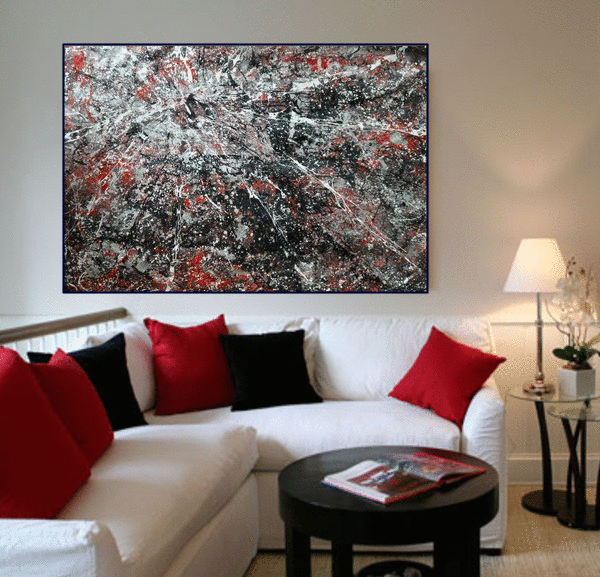 Kristen Brown is also a published author (What Didn't Kill Me) an EDM artist (Lethal Princess), part of a kpop duo (One Chill) using music in the interest of suicide prevention and personal empowerment, CTE awareness advocate, founder of #TeamMonster, and a Twitter Spaces host #MonsterPresents.
Thank you for your interest in Kristen Brown artworks. Enjoy!
Sugar Fruit is a 24"x 30"x.5" acrylic painting, owned by an art collector in Texas; Matt Brown (no relation); an homage to a memory of a pear, to which a whole chapter is devoted in the book, "What DIdn't Kill Me" by Kristen Brown. limited edition prints are available on Voice.
Shattered is an unstretched canvas painting, measuring approximately 5' x 7'. The base layer is flat black acrylic, and gloss black latex, to create depth, as each layer of the brightest white (reflective traffic paint), the brightest bold red, and alternating flat and glossy black and white latex, and acrylic paints, creates an effected of shattered glass.
An ethereum nft is available on Voice, to serve as the certificate of authenticity. Shipping not included in the price reflected on Voice.
Bassnectar Vibe is a 5'x7'x2" canvas painting, owned by the artist's youngest daughter. While listening to a playlist of Bassnectar EDM for six hours, layers of latex, oil, and acrylic paints were masterfully intertwined into a web of mystery. The original painting will never be for sale, however, limited edition prints are available via an ethereum NFT on Voice.
Comfortable Darkness is a 7 'x5' unstretched acrylic, and latex, canvas painting inspired by the Lethal Princess EDM song by the same name. Sometimes, it feels more comfortable to sink into the sadness or grief to really work out all those emotions before stepping into the light of healing. Standing in front of this painting is like a cosmic hug for your soul. Limited editions, and the original canvas are available for sale.
Paleozoic is one of those, "I wouldn't sell it for anything", paintings. Reminiscent of a prehistoric cave wall, Paleozoic is more of an existential vibrational experience than simply admiring a work of art. Standing in front of Paleozoic, one feels transported as if you just time-traveled.
The only reason the artist even claims this painting, is the fire. Look at that fire. No, like only look at the fire, haha. There should be more fire.
My dragon is a 24" x 30"x.5" acrylic canvas painting that was trading for left handed guitar lessons, that never actually happened. Now we have no dragon, no fire, and no guitar lessons. Isn't that just the way of things sometimes. Did you see the fire?
Have you ever gone down the rabbit hole known as Candy Crush? Then this painting needs no explanation; as it's clearly an exact replica of our brain wiring while playing, Candy Crush for far too many hours in a day.
Candy Crushed Souls is a 24"x 30"x.5" acrylic and latex canvas painting. The original is not for sale, though you may purchase the nft on Voice to use for prints and merch.
Conflicted is a 24"x 30"x.5" watercolor and acrylic mixed together, spilled on canvas, and a paint brush gently dragging pools of watery paint around in a random, abstract manner. The "conflicted" part is in regards to the artist's desire to paint the "pieces" like stained glass, conflicting with the desire to leave the contrast of black and white. The artist is keeping the painting, so maybe someday, "Conflicted" will get a glow-up and a name change, "Stained Glass Penguin".
/